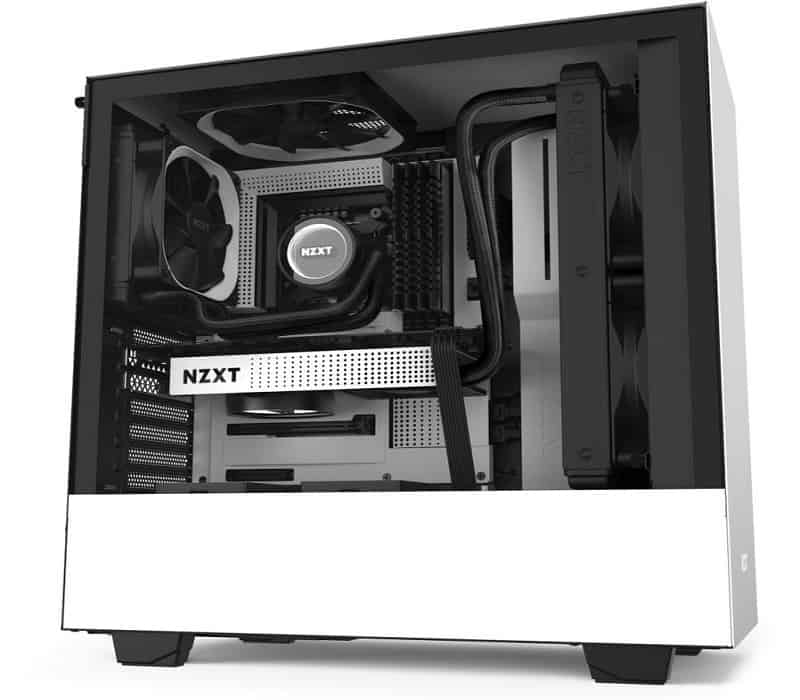 Did you ask yourself what's the perfect price to build a gaming pc? Right now you can build Gaming PC from 500 dollars up to 3000 or more, but does it really worth it?
We have made tests and we find out that 1000 dollars are the perfect price that you should spend in order to build a good Gaming PC. At this price, you will be able to have very good gaming experience at 1080p in very good conditions such as high settings, high FPS, and smoother gameplay.
So, what parts does this build have to get this result at this price? You will find all the details in this article below.
In order to build a good gaming PC, we have to pick parts of our system very carefully, and one of the most common mistakes that people fall in when they try to build their own pc is being a fanboy of a specific brand. Right now there is very tough competition in the market which returns positively to the customer, but when it comes to spending money we have to choose the best value for what we gonna spend. And the most important parts for a Gaming PC are the GPU and the CPU.
The following parts that are listed below are the best parts in terms of price/performance.
Processor
Intel was always ahead of AMD in terms of gaming performance, but with the latest 3rd Gen Ryzen, AMD has successfully reduced the gap that it had in gaming against its competitor Intel, bringing us very high-quality CPUs at an affordable price.
That's why we have decided to go with AMD CPU in this build.
1-AMD Ryzen 5 3600
The Ryzen 5 3600 is the sweet spot among the 3rd Gen AMD line-up in terms of price/performance. This CPU comes with 6 cores / 12 threads that can push up to 4.2GHz and consume only 65W. It also comes with a good stock cooler that works very well out of the box which will help you saving money for something else like the GPU.
The stock cooler is more than enough for the R5 3600 unless you are looking to overclock it then you will need a better aftermarket cooler.
All AMD Ryzen CPUs are overclockable but for this build and the CPU cooler, it will be better if you avoid overclocking your CPU until you get a better cooler.
This CPU performs very well with all current games and can be also used for rendering and video editing. Also, it performs better than the entire 2nd Gen AMD Ryzen line-up.
This CPU is the best bank for a buck and for the price it cost, it will be very hard to find another CPU that can beat it.
Check it Out Here on Amazon
Graphics Card
2-AMD Radeon RX 5700XT
The RX 5700XT is one of the latest AMD GPUs and among the best GPUs in the market. It's slightly behind the RTX 2070 Super while it cost the same price as the RTX 2060 Super.
If you are looking to play at 1080p or 1440p at high framerate then the RX 5700 XT is the smartest choice in terms of value.
However, if you want or do have already a 4K monitor then we suggest you pick the RTX 2080 Super.
Check it Out Here on Amazon
Storage
3-WD Blue 1TB (HDD)
Modern games require more space especially the lastest one that was released such as Call of Duty Modern Warfare, Red Dead Redemption 2, Hitman … each game of these need more than 100Go which can lead to a lack of space if you have many games installed at the same time.
While the HDD is slower than the SSD, for half of the price than SSD you will get a huge amount of space for your heavy files and games.
Check it Out Here on Amazon
4-Kingston 240GB A400 (SSD)
Nowadays an SSD is a must for every PC because of the speed they have compares to a normal HDD. And for this build, we have decided to go with Kingston 240GB.
This SSD will give you enough space for your system, and for one or two games from your gaming library.
Although SSDs don't affect the gaming performance, it allows you to reduce the long boot time as well as your programs and game loading time which can lead to a better gaming experience.
Check it Out Here on Amazon
Motherboard
5-MSI B450 Tomhawak MAX
Since all the Ryzen lineup uses the same socket type which is AM4, the previous AMD chipset works very well with the 3rd Gen Ryzen. And one of the best motherboards out there is the MSI Tomahawk B450 Max.
This motherboard performs very well with all 3rd Gen Ryzen and has many great features that can be found on premium models such as x470 and x570.
It's an ATX motherboard that comes with an extended heatsink that helps in keeping the VRM at good temps. It has 4 RAM slots that support up to 4133MHz. It also has x2 PCIe Slots that support AMD CrossFire, one M.2 slot, USB 3.1 Gen 2 Type-A slot, two USB 2.0 Type-A Slots, one USB 3.1 Gen 2 Type-C slot, two USB 3.1 Gen 1 Type-A slots, and RGB at the top edge of the motherboard.
Check it Out Here on Amazon
Power Supply
6-Thermaltake Toughpower RGB 650W 
Usually, people focus more on the parts that are mentioned above without giving much attention to the power supply.
The power supply is too a very important component that can damage your entire system in case it's a bad quality one from an unknown brand.
And for this system, we have decided to go with Thermaltake Toughpower since it's a very reliable brand that produces high-quality PSU which will guarantee the power needed for all your components. Also, 650W is more than enough for your entire system.
Check it Out Here on Amazon
Memory
7-Corsair Vengeance LPX (2x8GB)
The Corsair Vengeance LPX is one of the best RAM for AMD Ryzen CPUs. It supports overclocking and it has a very good heat spreader that helps in reducing the temps.
This kit runs at 3200MHz CL16 and it comes at an affordable price.
It also comes in two sticks of 8GB which will allow you to use the dual-channel. Also, AMD Ryzen CPUs benefits from faster RAMs.
Check it Out Here on Amazon
Case
8-NZXT H510
NZXT has always produced high-quality cases, and today we have brought you the H510 Model. This case comes with 3 different models which are black, white, and black & red. It also comes with x2 120mm fans that are already installed in the top of the case and the back. It also has x2 240mm fans slots in front of the case.
This case supports the 3 mobo form factors which are ATX, Micro ATX and mini ITX and has enough space for additional parts or/and big size GPUs.
Check it Out Here on Amazon
Conclusion
This is a great midrange build that will give you the chance to have great gaming experience as well as a smoother system. You will be able to play all the latest AAA titles at very high FPS at 1080P or around (±) 100 FPS at 1440P
In case you don't find a specific product that is mentioned above, you can leave a comment about the one is missing and we will try to provide you another similar one that will deliver the desired result.
If you choose to build your gaming system with the parts mentioned in this article please leave a comment telling us if you are satisfied with the result that you got.
Also, if you are looking for a good gaming monitor we have already reviewed many of these at a different price range, from Budget Gaming Monitors up to the best one, you can check them as well as other stuff at the Accessories Section.
We're an affiliate
We hope you love the products we recommend! Just so you know, we may collect a share of sales or other compensation from the amazon links on this page. However, please note that this doesn't cost you anything extra, it's a cut that comes out on Amazon's end