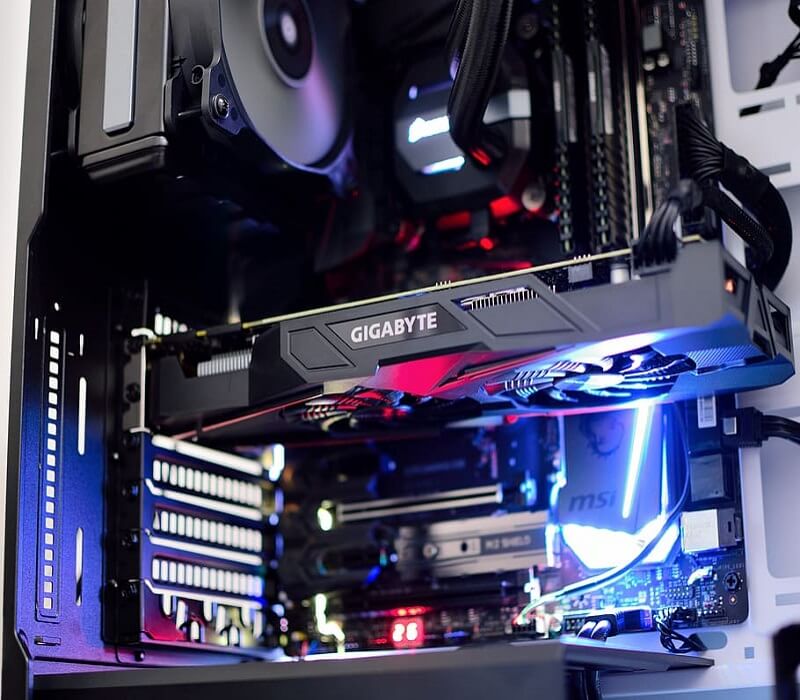 At some stage, we have all felt doubtful regarding which CPU & GPU we should combo to get the most enjoyable gaming experience. And today, you are going to discover which parts you should purchase to get the best value for your money.
To find the best combo, you will first have to identify your utilization, such as gaming, gaming, and streaming, heavy workload, your budget… etc. Then you will be able to choose the perfect combination according to your needs.
Moreover, the main part of a gaming PC is the GPU. However, you cannot throw any CPU with it, because a low-end CPU can bottleneck your GPU (which means that it won't be able to perform at its maximum speed).
With this being said, let's dive into the various CPU and GPU combo for different frame rates, resolution, and price range.
Best CPU & GPU Combo for 1080P 60Hz
1-AMD Ryzen 3 3300X
Building a good gaming PC doesn't require you anymore high budget, especially with the fierce competition. And the latest AMD CPUs aren't only affordable processors, but they also offer competitive performance.
First and foremost, the AMD Ryzen 3 3300X is one of the latest 7nm Ryzen CPUs in the Zen 2 lineup. This processor has amazed all its users by its competitive performance and affordable price.
Furthermore, the Ryzen 3 3300X comes with 4C/8T and a good stock cooler. Also, it uses an AM4 socket, and one of the best AM4 platforms are the B450 boards. Most of these motherboards come with amazing features such as good quality VRM, many M.2 slots, and much more at a reasonable price.
The bottom line, the Ryzen 3300X, is a fantastic CPU that offers impressive performance for anyone that is looking to build a midrange gaming PC without breaking the bank.
Check it Out Here on Amazon
2-XFX Radeon RX 580
You don't need a high-end graphics card to have a good gaming experience, all that you need is an AMD RX 580 8GB, and you are ready to go.
This graphics card comes with 2304 stream processors at 1386MHz, which will allow you to play most of AAA titles at ultra settings with 60FPS, which is more than enough to enjoy the game.
Moreover, the RX 580 will offer you a consistent (144 FPS+) at eSport games such as, Overwatch, CS GO, League of Legend, which means that if you got a high refresh rate monitor, you could benefit from a smoother gaming experience.
With this being said, the RX 580 is a great affordable graphics card that will allow you to play all the modern titles in the right conditions.
If the RX 580 isn't in your budget, you can still take a look at our list of best graphics card under 200$, that will offer you smooth gaming experience by changing some settings into medium/high.
Check it Out Here on Amazon
Best Value CPU & GPU Combo for 1440P 60Hz/1080P 144Hz
1-AMD Ryzen 5 3600
We have recommended this CPU for almost anyone that was looking to build a strong midrange gaming PC.
The AMD Ryzen 5 3600 is the best CPU in terms of price performance, this CPU comes with 6 cores and 12 threads, at an affordable price and competitive performance.
Furthermore, for less than 200$, you will be able to benefit from Zen 2 Architecture that allows you to have better performance compared to the previous Ryzen Generations.
Also, you can combine any graphics card with the Ryzen 5 3600 without worrying about bottlenecking issues, even the RTX 2080 Ti. When it comes to the temperature, the Ryzen 5 3600 comes with a good stock cooler that can maintain good temps at around 70C under load.
However, an aftermarket cooler will be required if you choose to get a better temperature or you want to overclock your CPU. Most of the aftermarket coolers will offer you better performance compared to the stock cooler at a reasonable price.
Regardless of the type of gamers you are, if you want to build an excellent mid-range gaming machine without breaking the bank, then the Ryzen 5 3600 should be your primary choice.
Check it Out Here on Amazon
2-Sapphire AMD Radeon RX 5700
The 1440P resolution is getting more popular nowadays, especially with the latest released GPUs. And if you are one of these people that want to get a taste of this resolution, then we have an excellent graphics card that will provide you a more enjoyable gaming experience at a fair price.
First and foremost, the RX 5700 is one of the newest AMD Navi GPUs; it competes for head ahead with the RTX 2060 Super while it's more budget-friendly. Also, it's a 7nm graphics card that comes with 2304 Stream Processors and can boost up to 1750 MHz.
Moreover, the RX 5700 is a strong midrange GPU for both 1440P 60Hz, and 1080P 144Hz. And, the only GPU that can provide you the same performance with the green team is by going with the RTX 2060 Super.
Therefore, if you have a limited budget, and you want to benefit from your high refresh rate monitor, or enjoy your AAA titles at 1440P resolution, then the RX 5700 is an excellent choice for you.
Check it Out Here on Amazon
Best Overall CPU & GPU Combo for 1440P 144Hz/4K 60Hz
1-AMD Ryzen 7 3700X
If you are looking for a high-end CPU that can offer you fantastic performance in both Gaming & Multitasking, then search no more, because the Ryzen 7 3700X is the way to go.
The Ryzen 7 3700X comes with 8 cores and 16 threads and consumes only 65W. Also, the stock cooler that comes with this CPU is more than capable of handling your processor under proper temperature even under load.
Moreover, the Ryzen 7 3700X offers almost the same gaming performance with its 4.4GHz boost clock as the Intel Core i7-9700K. However, when it comes to productivities tasks, Ryzen 7 3700X provides better performance due to its higher threads count.
Therefore, Ryzen 7 3700X is an excellent CPU for both gaming and productivity, and it should be your first option in case you want to get the best value for your money.
Check it Out Here on Amazon
2-Sapphire RX 5700XT (Best AMD Value GPU)
AMD RX 5700 XT is the best available graphics card from AMD. It comes with a Boost Clock Up to 2010 MHz, and 8GB GDDR6 memory.
Moreover, this Graphics card will allow you to enjoy your gaming moments by offering you high performance for your 1440P display, which is the ideal resolution for this GPU.
When it comes to price per frame, the RX 5700 XT is the best value GPU compare to the RTX 2070 Super, since it offers almost the same performance at around 100$ cheaper.
However, some of you may see this graphics card as a dealbreaker since it doesn't support ray tracing, and in this case, it would be a better choice for you to go with an RTX 2070 Super instead.
Except for RTX features, the RX 5700 XT is an excellent graphics card that will offer you the high-end performance that you are seeking.
Check it Out Here on Amazon
Or
3-EVGA RTX 2070 Super (Best Performance along with RTX features)
High frames rate used to be the only factor to benefits from an enjoyable gaming experience. However, after Nvidia has released the RTX lineup, it came up with some new features such as Deep Learning Super Sampling (DLSS), Ray tracing… which improved the gaming experience of its users.
And today, we brought you the best value RTX GPU that offers all these features along with an amazing performance.
The RTX 2070 Super is among the best graphics card that is available in the market; it comes with 2560 CUDA Cores and 1800 MHz Clock Speed. Also, this graphics card comes with 3 x DisplayPort, and 1 x HDMI, which allows you to run up to 4 monitors at once.
Overall, the RTX 2070 Super is a great GPU for 1440P resolution at 144Hz; it will provide you the high-end performance as well as the latest features that will improve your gaming experience. It also offers consistent 60FPS at 4K monitors.
Check it Out Here on Amazon
Best CPU & GPU Combo for 4K 70Hz+/1440P 144Hz Ultra settings
1-Ryzen 9 3900X
If you want to step toward streaming platforms like Youtube, Facebook, or Twitch and you are looking to offer to your viewers a wonderful time, then the Ryzen 9 3900X will provide you with what you are seeking.
First, the Ryzen 9 3900X is one of the top tier AMD Ryzen processors. This CPU offers monstrous performance; it has 12 Cores and 12 Threads that can boost up to 4.6GHz.
Furthermore, this CPU will provide you with an amazing performance for gaming, heavy workload, content creation, or any tasks that are CPU demanding.
Overall, the Ryzen 9 3900X is slightly behind the Intel Core i7-10700K and i9-10900K at 1080P resolution, while it delivers almost the same performance at 1440P or 4K resolution.
Check it Out Here on Amazon
Or
2-Intel Core i9-10900K
If you are among people that are obsessed with the frame rate or you are a competitive gamer where each frame matters, then the latest Intel Core i9-10900K should be an excellent option for you.
First and Foremost, Intel has come up with new features on the 10th gen CPUs, which are Thermal Boost Velocity and Turbo Boost Max 3.0, which offer to its users a high core clock speed while running a demanding task or game.
Additionally, at the same price as the Core i9-9900K, the Core i9-10900K offers higher core counts, threads, and gaming performance. Moreover, the 10th gen Intel CPUs uses a new socket type, which is the LGA 1200, and if you want to get the best performance out of your CPU, then you should go with the Z490 chipset.
Furthermore, the Z490 motherboards support the 10th Gen Intel CPUs; it offers PCIe 4.0, high overclocking potential as well as Memory overclocking ability. Also, Intel has confirmed that the Z490 chipset will support the next Gen Intel CPUs.
Therefore, if you want the best gaming performance, then the Intel Core i9-10900K is an excellent option. You will get high-end gaming performance along with a future proof motherboard.
Check it Out Here on Amazon
3-EVGA RTX 3080 FTW3 Gaming
If you have ever thought about taking your gaming experience a step further by joining the 4K gaming community, then the time has come.
First and Foremost, the RTX 3080 is the best top tier value GPU from Nvidia. This GPU is able to run most of the current AAA titles at 70+ FPS at 4K resolution while it's more affordable when we compare it with the previous RTX generation.
Moreover, this GPU comes with 8704 CUDA Cores, Boost Clock of 1710 MHz, and 10GB of memory. In terms of connectivities, it has 3 x DisplayPorts and 2 x HDMI port.
Also, on top of the monstrous performance, the RTX 3080 comes with a new improved version of all RTX features such as DLSS 2.0, Ray Tracing, NVIDIA NGX, and some other amazing features that will enhance your gaming experience.
Hence, the RTX 3080 is an amazing GPU that will deliver great 4K gaming experience while sitting on a reasonable price range.
Check it Out Here on Amazon
Conclusion
After reading this guide, you should now have an idea about the best CPU & GPU combo that you can purchase to get the best value for your money. Now what you should do is to identify your budget as well as your utilization, and then you will be able to select the best combo that will suit your needs.
If you haven't chosen a motherboard yet, you can check our Best CPU & Motherboard Combo, where we have reviewed the best motherboards for the CPUs that are listed above.
If you decide to purchase one of the combos selected above, please leave us a comment below letting us know your experience with it, and if you are satisfied with the result.
Also, if you liked this guide, you can share it with a simple click with the buttons below on any social platform you want.